More than 400 international students at the Faculty of Humanities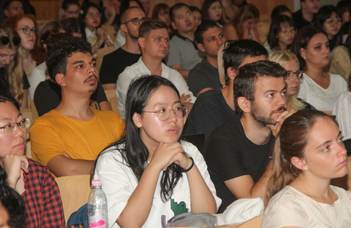 Although the tuition period starts on 9 September Orientation Week and Welcome Ceremony started Monday, 2 September at the Faculty of Humanities. For the autumn semester of the academic year 2019/20 our faculty expects more than 400 international full time and guest students from more than 30 countries in our foundation, bachelor, master and PhD programmes.
After the welcome words of Dean Prof. Dr. Gábor Sonkoly, Prof. Dr. Krisztina Károly, Vice-Dean for International Affairs introduced our faculty wishing them success during their studies at ELTE BTK.
Dr. Pohl Uwe-Jens, Assistant professor of the School of English and American Studies prepared our freshmen for the big intercultural adventure with his short lecture: "Studying abroad: an adventure in transitioning"
During the Orientation Week students will receive all necessary and practical information about starting their studies and staying in Hungary. In the frame of several social events organized by ESN and Eötvös Loránd University they will also have the possibility to get to know each other.
Please find the agenda of the Orientaion Week here.
Orientation week 2019_20_1
Orientation week 2019_20_1