Housing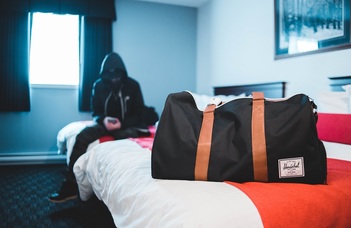 The accomodation costs are not included in the tuition fee
ROOM&BOARD in the City centre
1.You can choose from several room&board opportunities in Budapest - appartments and hostels are available in the city for good price.
Recommended to: adults or those participants who prefer staying in single room.
For further details please, check the following sites:
---
ELTE DORMITORY
2. Any student can be accommodated in double or triple rooms at ELTE NAGYTÉTÉNYI UTI DORMITORY on demand. The rooms will be booked by the International Office based on the requests of the application form.
Recommended to: those participants who do not mind staying in double/triple bedrooms or sharing it in with other students.
Address: ELTE Nagytétényi úti Dormitory, 1223 Budapest, Nagytétényi út 162-164.
WEB: http://nuk.elte.hu
MAP: https://goo.gl/maps/rGCHYN63PhkF6oXa7

Before filling in the form it is good to know:
It takes 35-40 minutes to get to the city centre from the dormitory by bus 133E.
No single room is available. The dormitory has double/triple bedrooms (2-3 beds =/ 2-3 persons/room). You have to SHARE your room with other students.
There is a shopping mall close to the dormitory called Campona.
Prices: Double/triple room: 3,500 HUF/night/person (~10-12 EUR / night / person)
You can pay for the room in cash (HUF) on the spot on arrival (first week)
Deadline for application: 10 JULY 2019
If you choose this option, please fill in this dormitory request form carefully:
https://www.elte.hu/en/elte_suhl_dormitory_request_form
(In case of cancelling the application for ELTE dormitory place, you should send us an e-mail with the subject line "Cancellation of dormitory place for summer school" to the email address hungariansummer@elte.hu and declare it in the email until 25 July 2019.)
Check-in at the dormitory:
You can check in the dorm and occupy your rooms on 27-28 July 2019 (whole day)
There is a 0-24 hour reception at the dormitory where you can check in any time you arrive.