Vinay Sahasrabuddhe visited ELTE Faculty of Humanities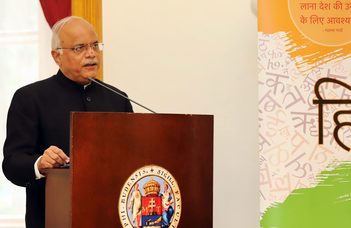 On 30 September 2021,
Vinay Sahasrabuddhe,
president of the Indian Council for Cultural Relations (ICCR), MP, writer, journalist, social activist, visited ELTE Faculty of Humanities during his 2-day-long stay in Hungary. He was accompanied by
Kumar Tuhin HE,
Ambassador of India to Hungary and
Tanuja Shankar,
director of the
Amrita Sher-Gil Cultural Centre, Budapest.
Vinay Sahasrabuddhe first had a discussion with Imre Hamar, vice-rector for international affairs, Dávid Bartus, dean, Ildikó Horváth, vice-dean for international affairs, and Máté Ittzés, head of the Department of Indian Studies, during which the Hungarian-Indian cultural and educational bilateral agreements, the possibilities of future cooperation between ELTE and Indian universities, and the perspectives of student and teacher mobilities were reviewed.
The importance of the Rabindranath Tagore Research Fellowship programme, founded by the ICCR at ELTE in 2007, was also emphasized, and the management of the Faculty hopes the research programme can restart after a 3 year gap.
Then the ICCR president held his English language lecture titled India@75: From the past, through the present, to the future in the Faculty Council Hall. He talked about the richness of India's ancient customs and traditions, the country's results and the way of becoming a key participant in the global competition.
He describes India not only as the world's greatest democracy, but also a spiritual democracy.
India will celebrate the 75th anniversary of its independence with a great series of events next August.
After the lecture, the delegation visited building B to see the sculptures of Sándor Kőrösi Csoma and Tagore Rabindranath, which were donated to the university by the Indian government and the ICCR. The last programme point was the visit to the Department of Indian Studies, where Vinay Sahasrabuddhe checked the library and the recent publications of the department, and also talked to the teachers about the education and the student and teacher mobility options. Both parties hope that with the alleviation of COVID, it will be possible again to have a Hindi mother-tongue lecturer at ELTE to help the Indology studies.