Graduation Ceremony 2022 July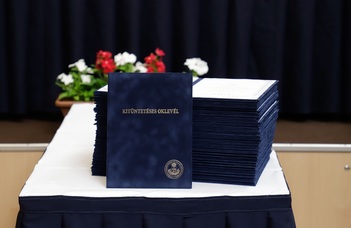 According to the decision of the Dean of ELTE Faculty of Humanities, the Graduation Ceremony is being organised in the spring semester of AY 2021/22 between 18-20 July 2022. The participation in the ceremony requires prior registration.
International students receive their degree certificate during the first ceremony
18 July 2022, start of Ceremony: 10.00 a.m. (CEST)
Students of Schools of English and American Studies; International Students
stream link
Participation
You have to indicate your intention to participate between 29 June 2022 (Wednesday), 10:00 a.m. – 6 July 2022 (Wednesday) 22:00 p.m. by filling in the Neptun request 'Registration for the Graduation Ceremony Summer 2022' under Administration -> Requests. Please, fill in the request even if you are not willing to participate!
If you do not fill in the request by the deadline, or you indicate in the request that you are not participating, there will be no more opportunities for registering for the Graduation Ceremony, and you will be able to pick up your degree certificate only after the ceremony, in-person.
Graduating Students can invite maximum 2 guests to the Ceremony.
Other ways to pick up your degree certificate/supplement
After the Ceremony, in-person or by an authorized representative: between 25-29 July during the office hours (Mon.: 13:00-16:00, Wed.: 9:00-12:00 and 13:00-16:00)
Before the Ceremony, in-person: Only in reasonable cases. This option is available only when the documents are issued. Please, contact your study coordinator to discuss the details: kertesz.emese@btk.elte.hu.
We would like to call your attention to the fact that there is NO opportunity to receive your degree certificate/supplement by post.
Please note that there are no office hours at the Office of Educational Affairs between 30 July and 28 August 2022. In the case you cannot pick up your degree certificate/supplement until 29 July, the next available appointment will be on 29 August.
The degree certificate/supplement can be picked up in Room 24. (1088 Budapest, Múzeum krt. 4/A). If you cannot pick up your documents in-person, you can send a representative too. In this case, an official authorization form, signed by two witnesses, has to be prepared beforehand. The authorized representative can pick up the official documents only by handing in the authorization form. The form can be found on the faculty website under Current students/Documents, forms, study issues.
Pictures taken at the Ceremony
At the Graduation Ceremony, pictures and a video will be taken by the photographer of the Faculty of Humanities. The pictures can be ordered at foto-video@btk.elte.hu. More information (in Hungarian): http://foto-video.elte.hu/.
Stay with ELTE, and register for our international Alumni Chapter